Over the years, I have accumulated soldering stations, test equipment, design software and  computers. The problem is I have accumulated space consuming stuff. My lab has been in dens, bedrooms, garages…
I pick up the stuff from surplus stores, craigslist, Foothill flea market, eBay, and company bankrupt sales. As the fellow from Agilent once told me, "their biggest competitor was themselves". The older HP test equipment is still quite good.
When I moved, I looked for a place to set up shop. Most shops here were automotive, and while there are many amusing things that could be done with a car lift, they weren't going to work. I ended up building one.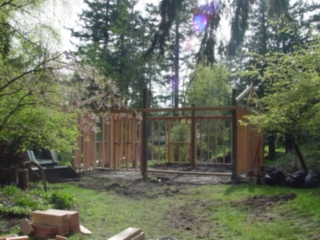 I sent a proposal around to many contractors describing a one-room space. A few came out and I hired one that was conscious of affecting trees. We have many Douglas Fir, Cedar and Dogwood trees on the property. I really didn't want to affect them nor cut them down. I hired Dave Anderson Construction to build the space. It's just a simple one room structure. Dave had a great idea of adding a half bath and using a heat pump for heating and cooling. Washington requires a lot of insulation – even when it's cold, the computer is sufficient to heat the room. The most challenging part was the trenching needed for sewage, water lines, power and Ethernet. This required finding and working by hand around the major roots without damaging the trees.
The lights and some outlets are controlled using Ethernet. My criteria was that it passed electrical inspection and it had to work independent of the network. I found the GE RR-7 solenoid latching relay on eBay. These things have been used since the 1950s and are still being used. They fit in the knockout of a standard electrical utility box and are rated 125VAC 20A and eight relays are housed in four boxes in the attic space.
I used standard low voltage push-button switches inside and they work independent of the network controller. The network controller is housed inside a Leviton structured media wall box.  The controller is subject of another article. I hired a  local electrician, Brian of Tec Quest Electric, to do all the major wiring so it passed inspection without any problems.
Good lighting is important for the lab. I use a matrix of standard can lights with flex-neck LED spot lights over some of my work-space. Also have a small refrigerator for keeping solder paste and drinks.
Another feature was a pass through box from the outside to the inside. I used a standard junction box on the inside and a NEMA box on the outside with a 3″ connecting pipe. This has a ground rod buried in the ground with heavy copper wire. This is for a few antennas I need access to. I have added wiring for a side ventilation fan for future expansion.
I also went with a vinyl floor for two reasons. It doesn't have grout lines or cracks that consumes small parts that happen to escape and second, unlike carpet, it keeps the electrostatic discharge to a minimum.
Next article is setting up an electronics lab.
Post script
I found that working with plastic can create noxious fumes and it isn't compatible with sitting at a computer or working on circuit boards. Metal working generates small sharp metal chips and wood working generates sawdust. These best belong in a separate "dirty" shop while the electronics is in the "clean" shop.